Description
A solar street light is powered by solar energy and is used in many areas and along different streets for lighting purposes. It uses a battery plus solar panel that is charged during daytime for lighting at night. Solar Street light has other features such as motion sensors and remote controls that come in handy when lighting up difficult areas.
The following perks have made solar street lights more popular by the day:
They can be installed anywhere.
They are easy to install.
Have low maintenance even no in five years.
Provide optimum lighting.
Better return on investment.
Renewable source of energy.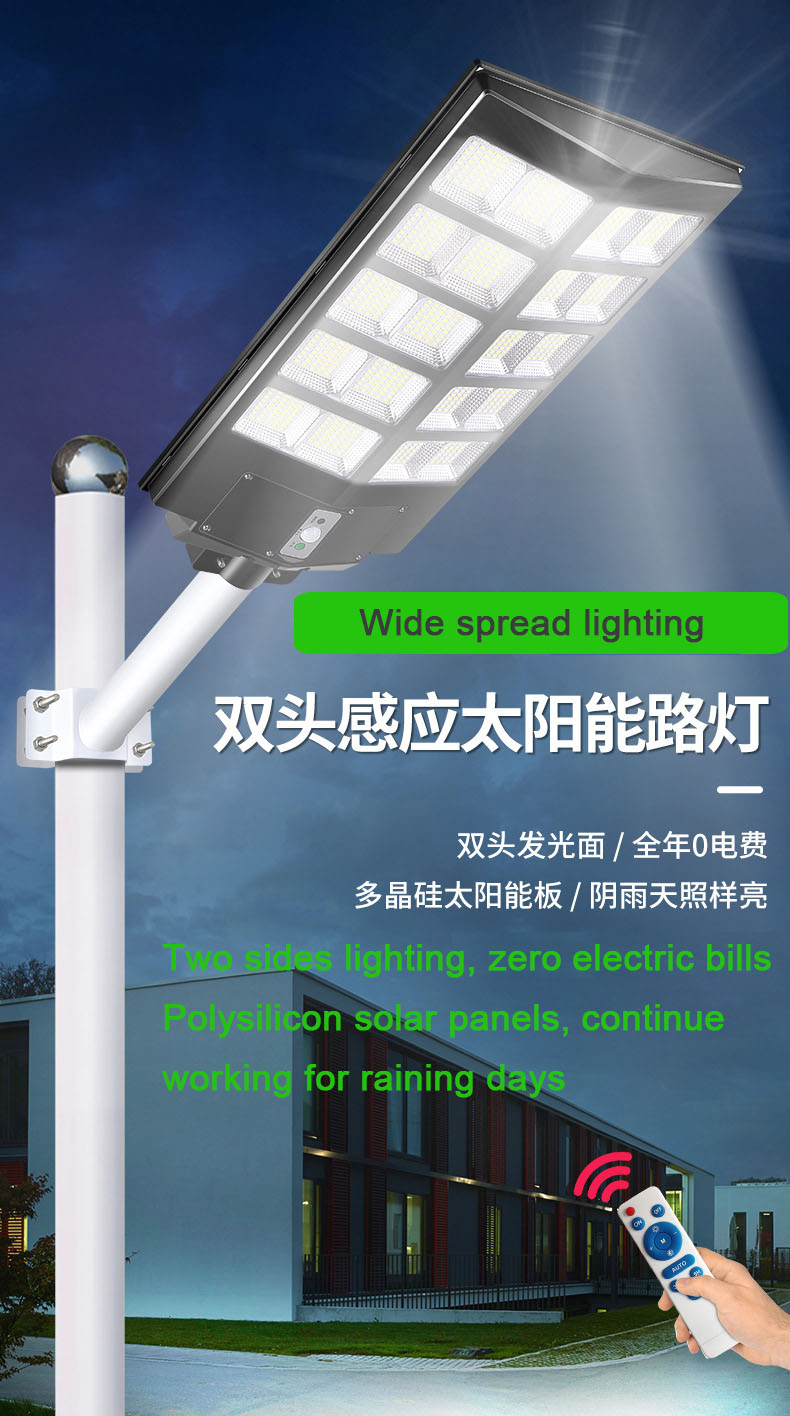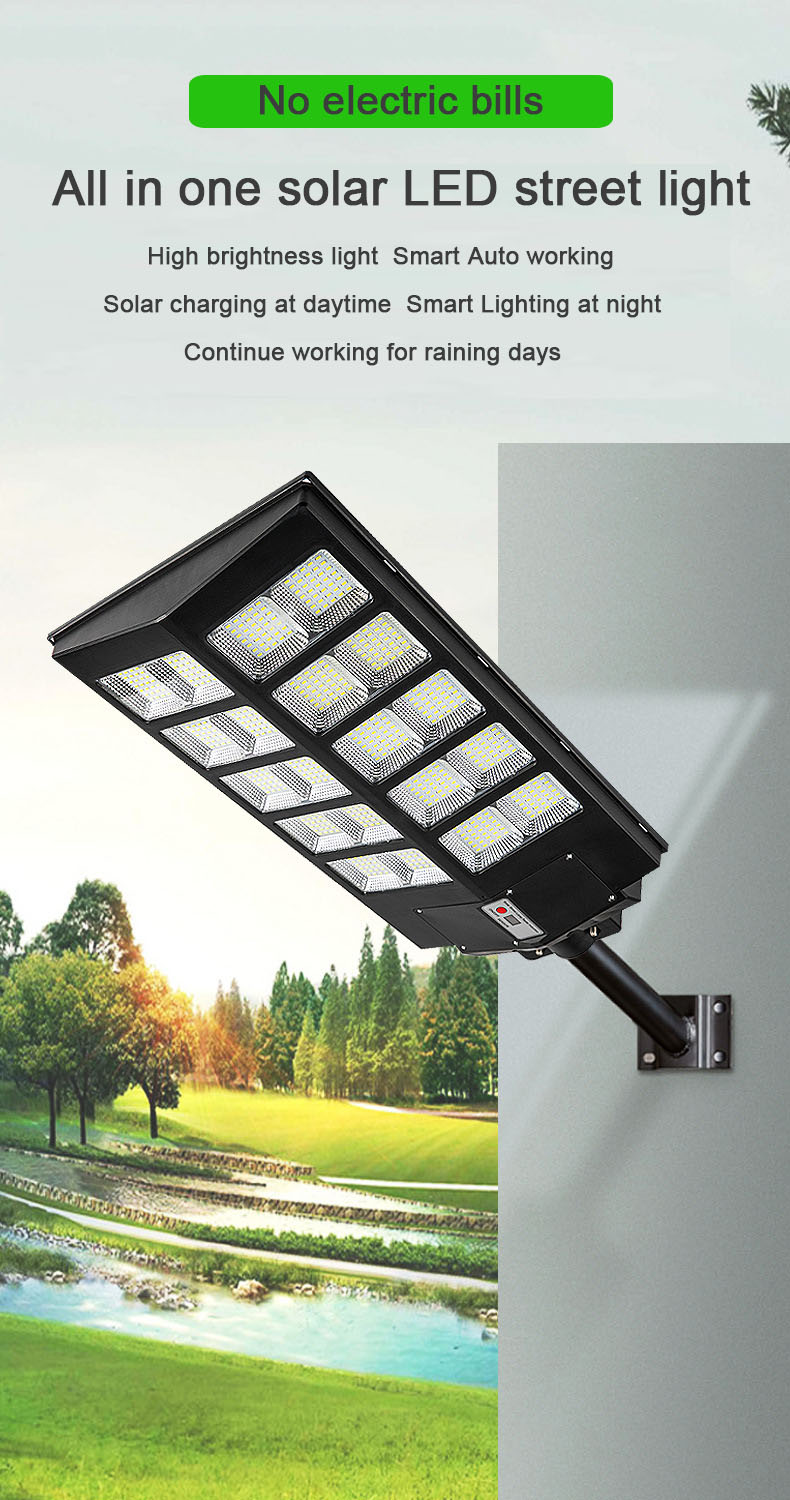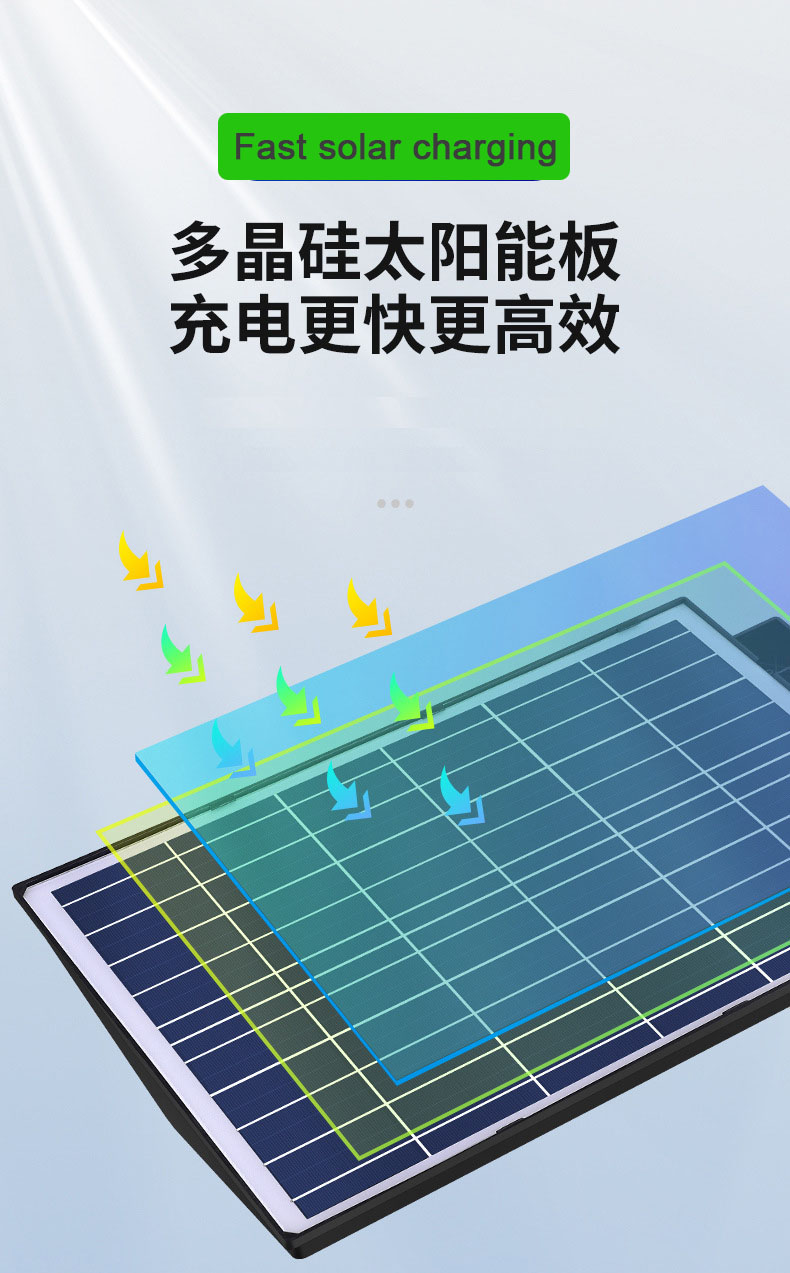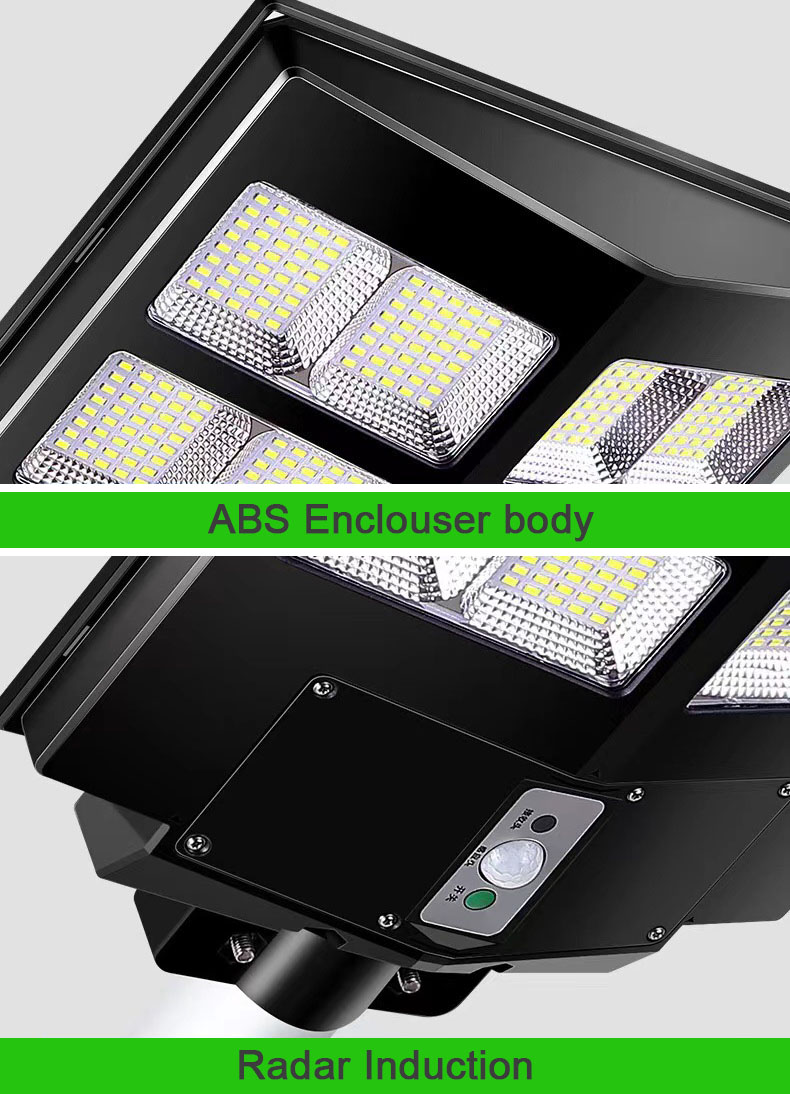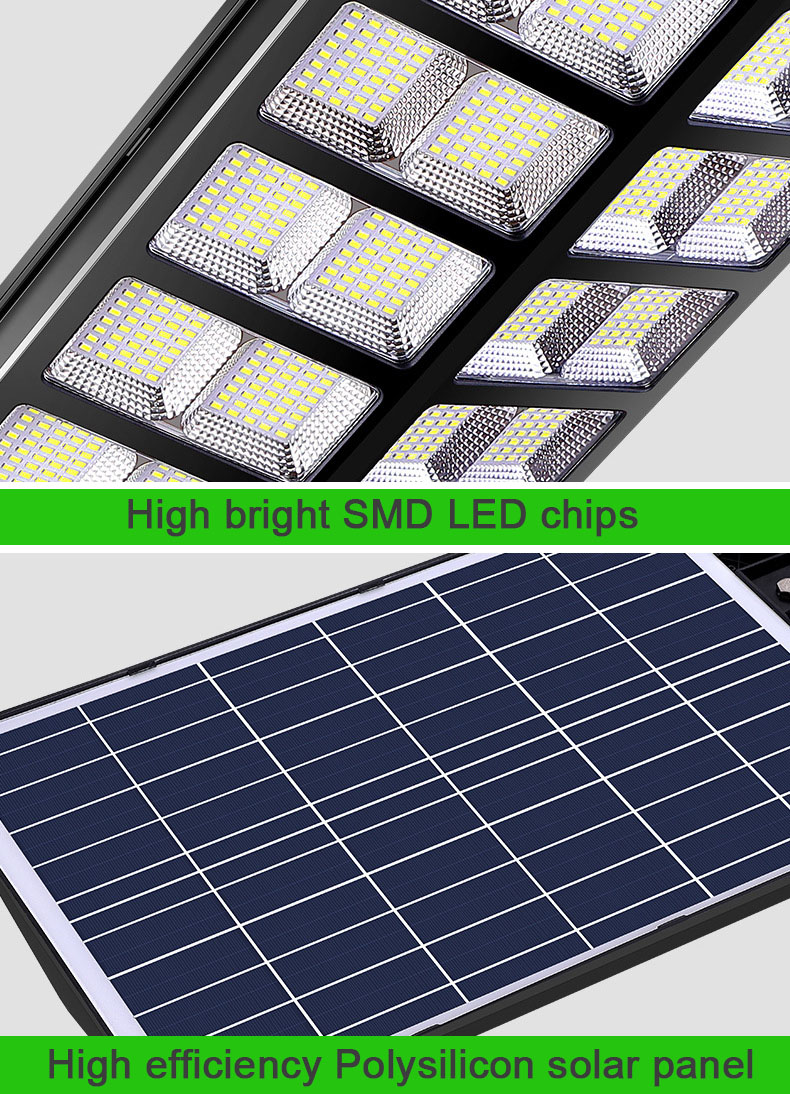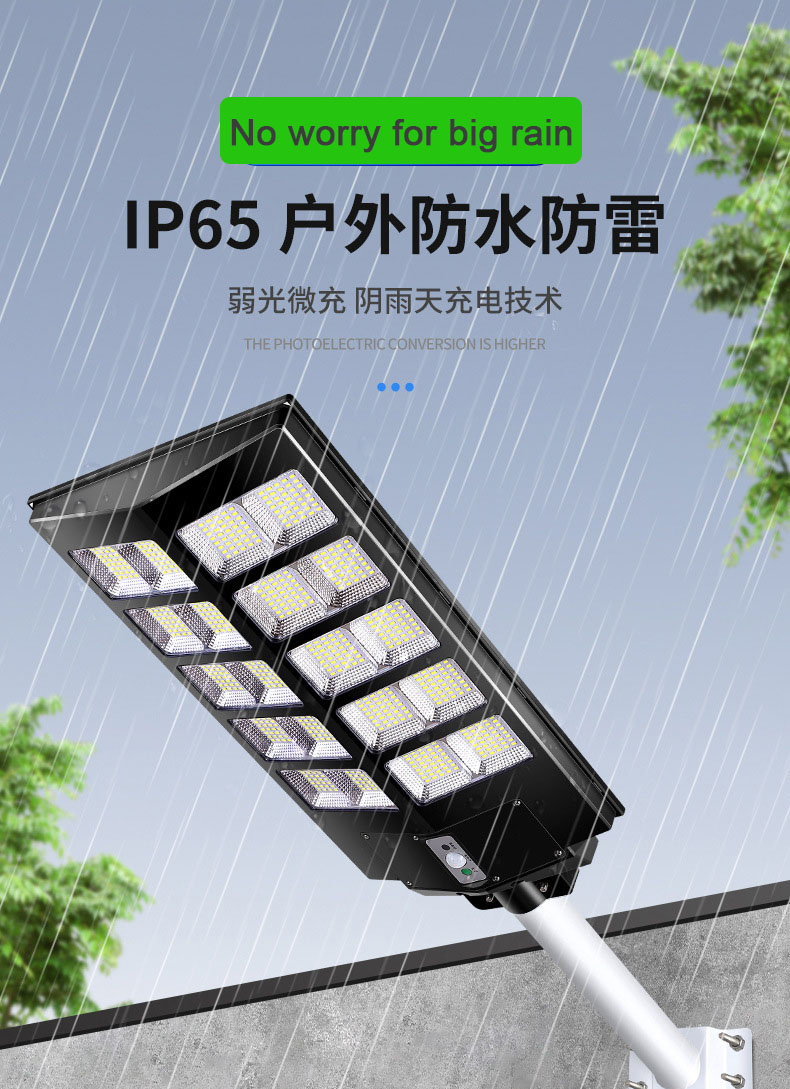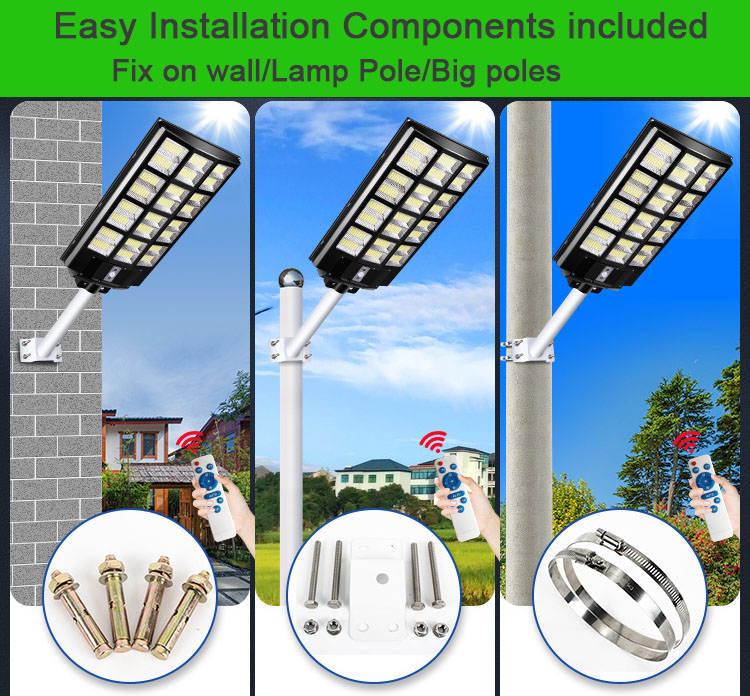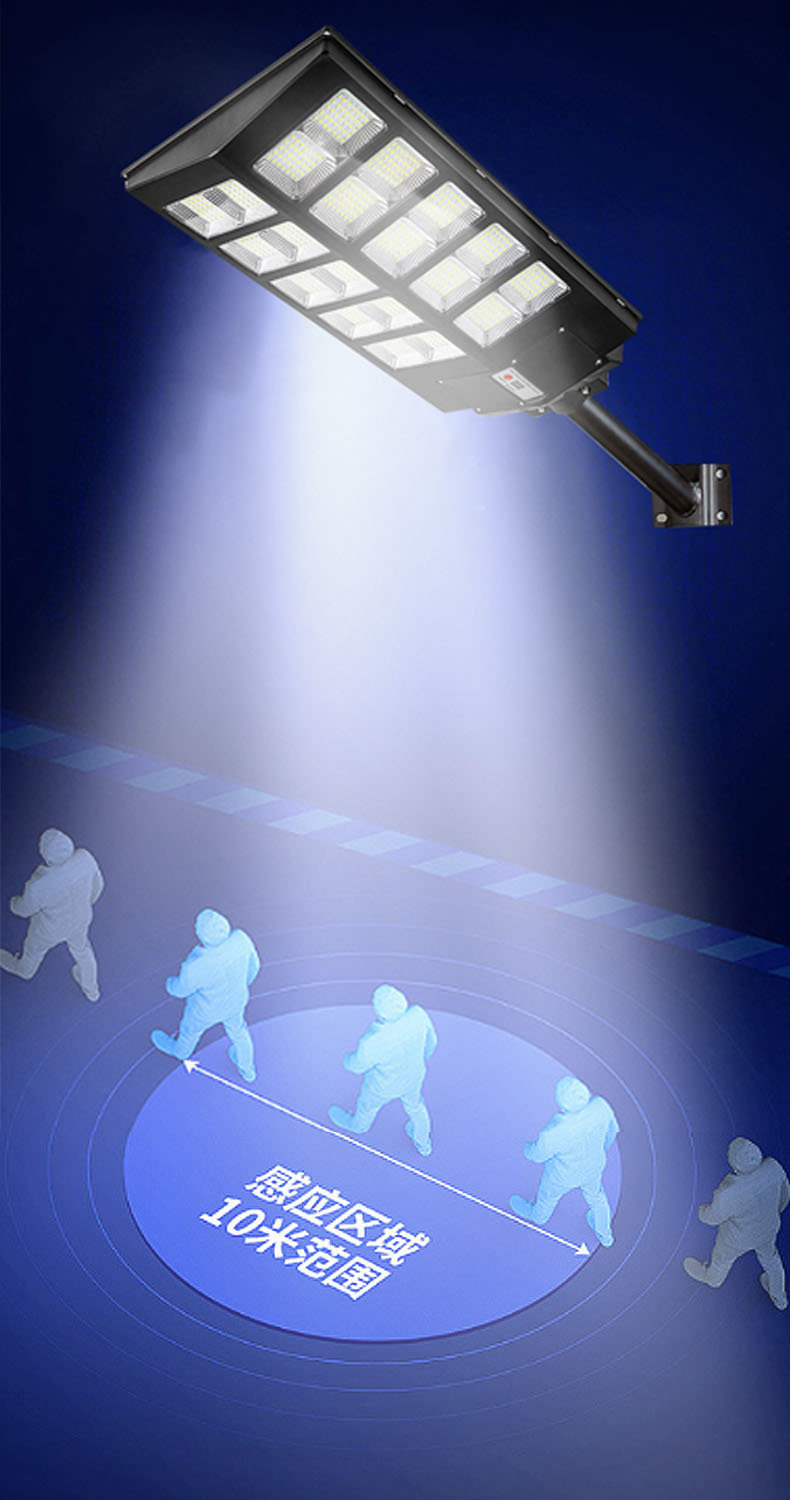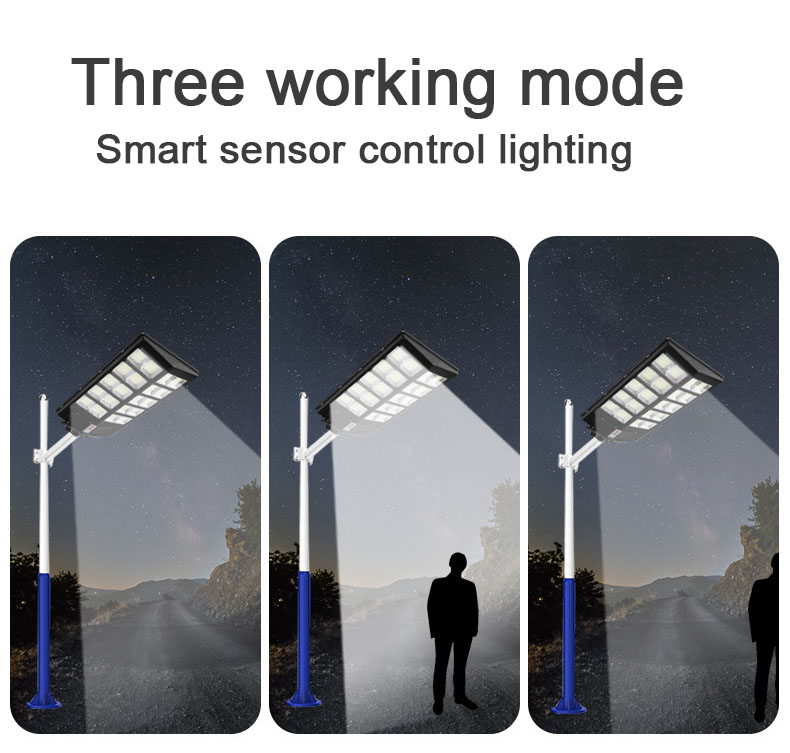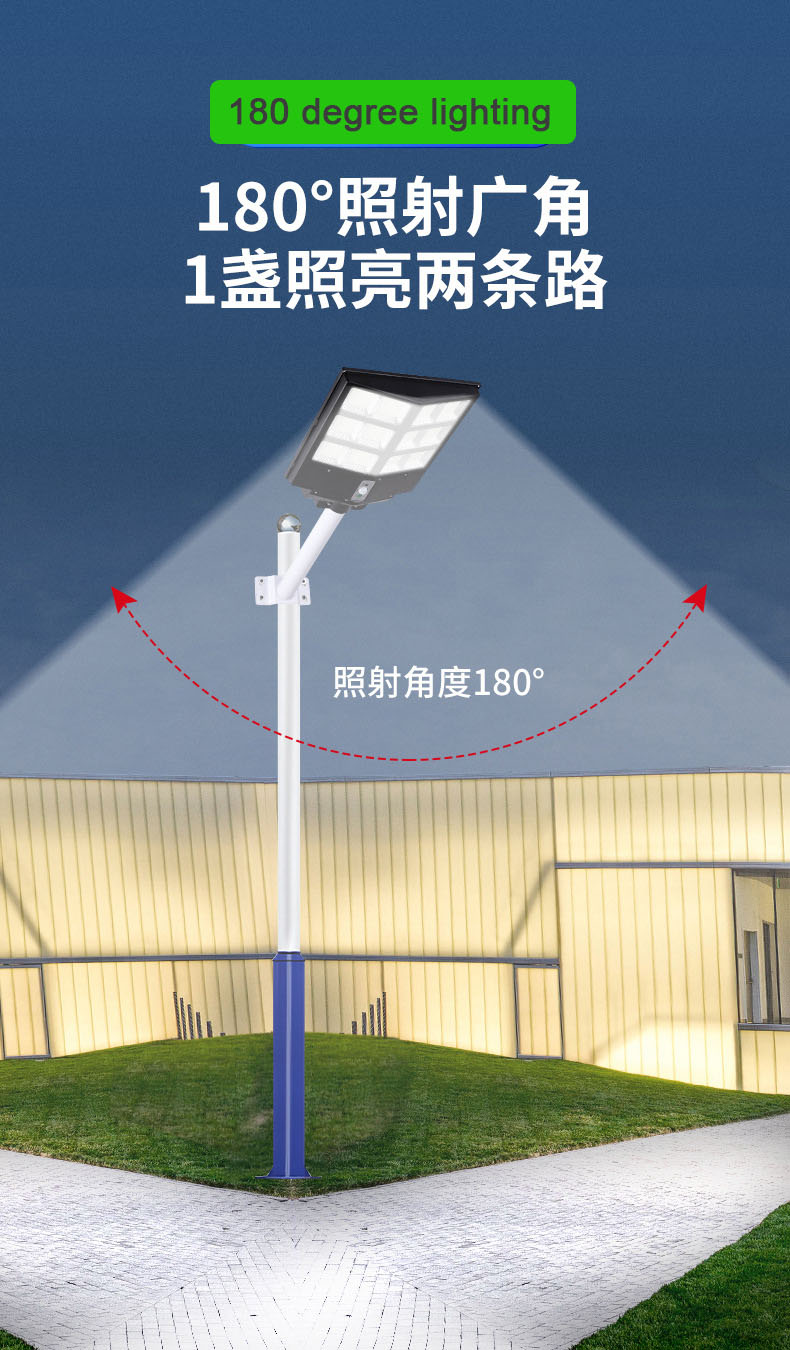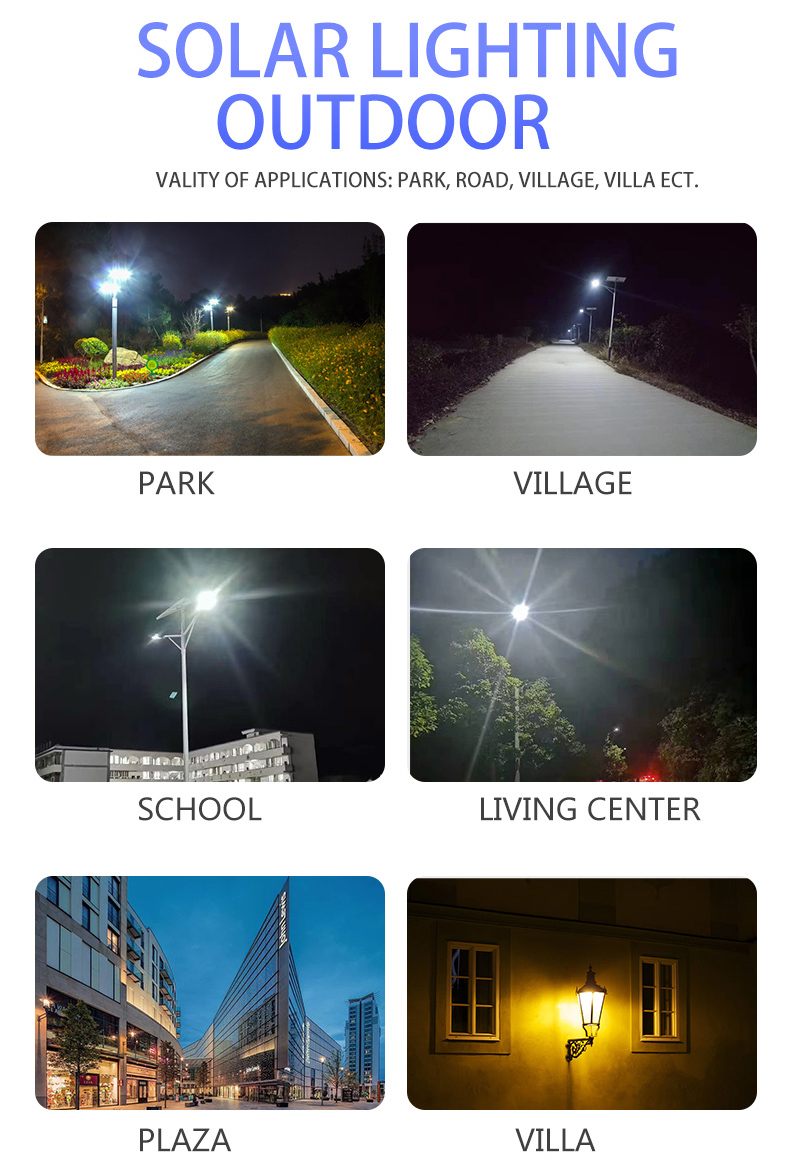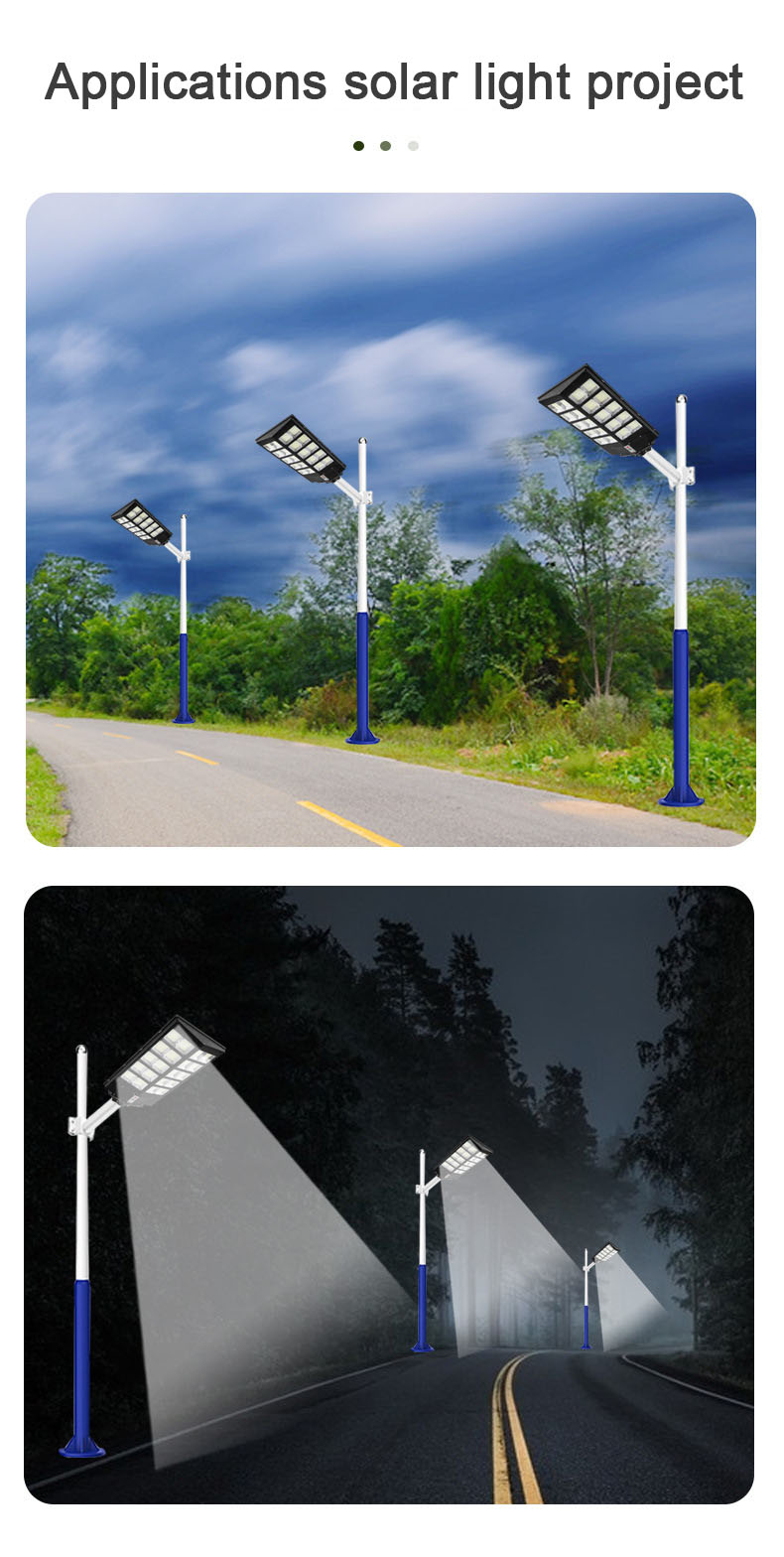 ---
All ine one solar led street lights Specifications:
Power
600W
800W
1000W
Solar panel
6V 18W
6V 25W
6V  30W
Battery Capacity
3.2V 15Ah
3.2V 20Ah
3.2V 30Ah
Grade A LiFePO4 Lithium
LED lamp power
480LEDS
640LEDS
800LEDS
LED chip
Super bright SMD LEDS
Lumens(LM)
800lm
1200lm
1500lm
LED Lifespan
100,000 hours
100,000 hours
100,000 hours
Controller
Remote, Lighting & Radar as optional
Lighting Angle
120°
120°
120°
Solar Charging time
6-8 hours
6-8 hours
6-8 hours
Discharging time
12-24Hours
12-24Hours
12-24Hours
Lamp size
447*342*70mm
597*342*70mm
700*270mm
Packing
47*43*36mm
62*37*35mm
76*37*26.5mm
Color temperature
2700K-6500K
2700K-6500K
2700K-6500K
Working temperature
-30℃~+80℃
-30℃~+80℃
-30℃~+80℃
Pole height
3-5m
3-5m
3-5m
Pole distance
10-15m
15-20m
15-20m
Material
ABS enclouser
ABS enclouser
ABS enclouser
---
Advantages of Solar lights:
The upfront costs for solar lighting may not be pocket-friendly, but it is usually cheaper in the long run since you do not pay monthly bills. Although this might seem a bit expensive technology at first, by doing the right math you will see that the money saved from being paid to your electric energy provider will eventually add up and cover the costs of the installment of the solar lighting within a matter of just a few months.
Solar outdoor lighting powered by the sun is the best alternative for standalone commercial solar outdoor lighting system since you get to do away with trenching and other installation costs.
The system is completely powered by solar energy and uses renewable energy technology, making it one of the best green lighting alternatives.
Wide range of variety: Solar lighting solutions come in various styles, types and shapes. It gives an individual the chance to select what suits their needs and preferences.
Longer life-span: traditional street lights can take you up to 5,000 hours while the solar lights can take you up to ten times longer providing quality lighting options.
Solar lights have a low voltage DC and no wiring, so less dangerous than electric power of AC110-240V.
As mentioned, using solar lights plays a major role in reducing carbon footprint that has been created by producing energy from non-renewable energy sources. Only by slowly acquiring solar and other types of renewable energy it will be possible to decrease the problems caused by exhaustion of our planet's resources.
The system is completely powered by solar energy and uses renewable energy technology, making it one of the best green lighting alternatives.
---
Where to use solar lights:
Pathway illumination: Other than improving the curb appeal of your outdoor spaces, the solar lights improve the safety and security of your home.
Solar-powered street lights are best for outdoor and get-togethers. Without tangled extension cords, you can enjoy the special glow they automatically provide in the dark.
Solar lights can be used in carports and roofs where extra security lighting is required. Ensure you settle for models with high-quality LiFePO4 Lithium batteries, which come in handy during power emergencies.
Solar street lights are best for school, courtyard. Without electric wiring, very safe for students.